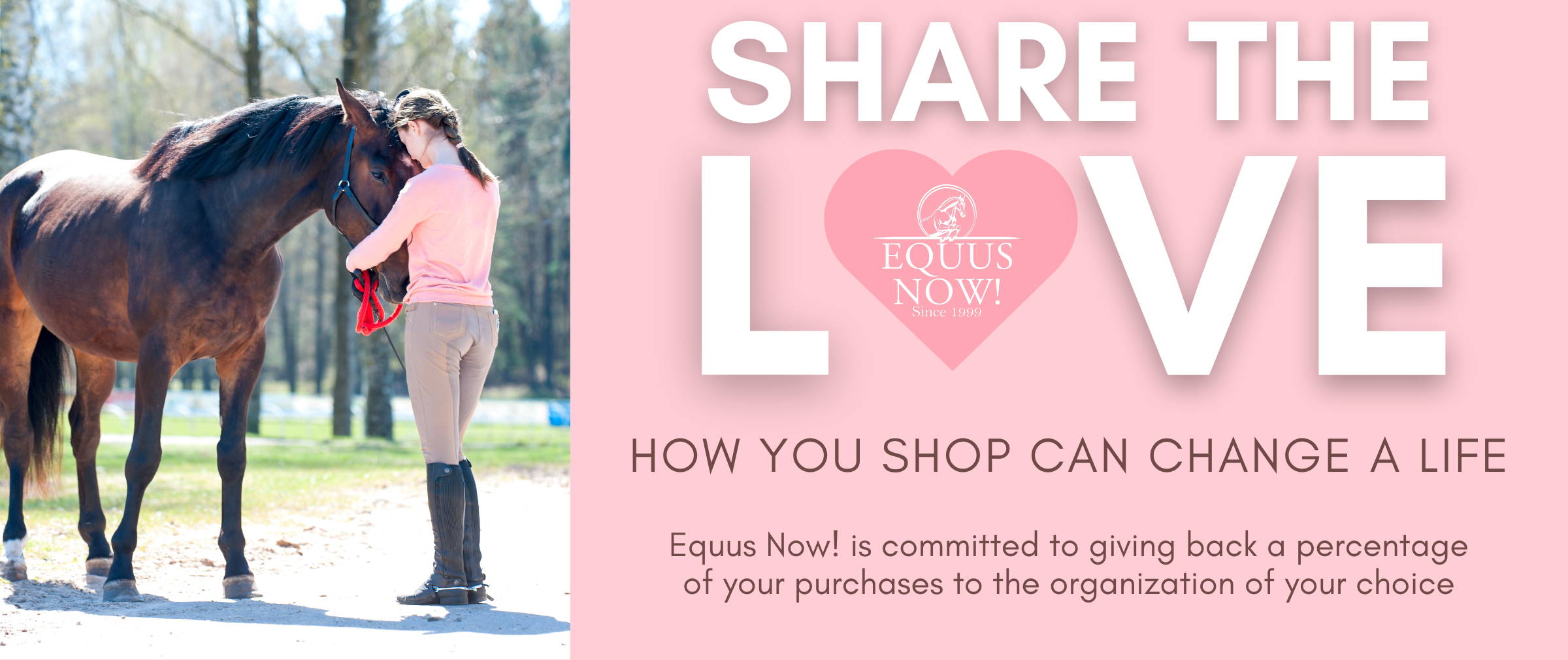 Choose your favorite organization and use their unique coupon code shown below to donate a percentage of your purchase!
Equus Now! is proud to support: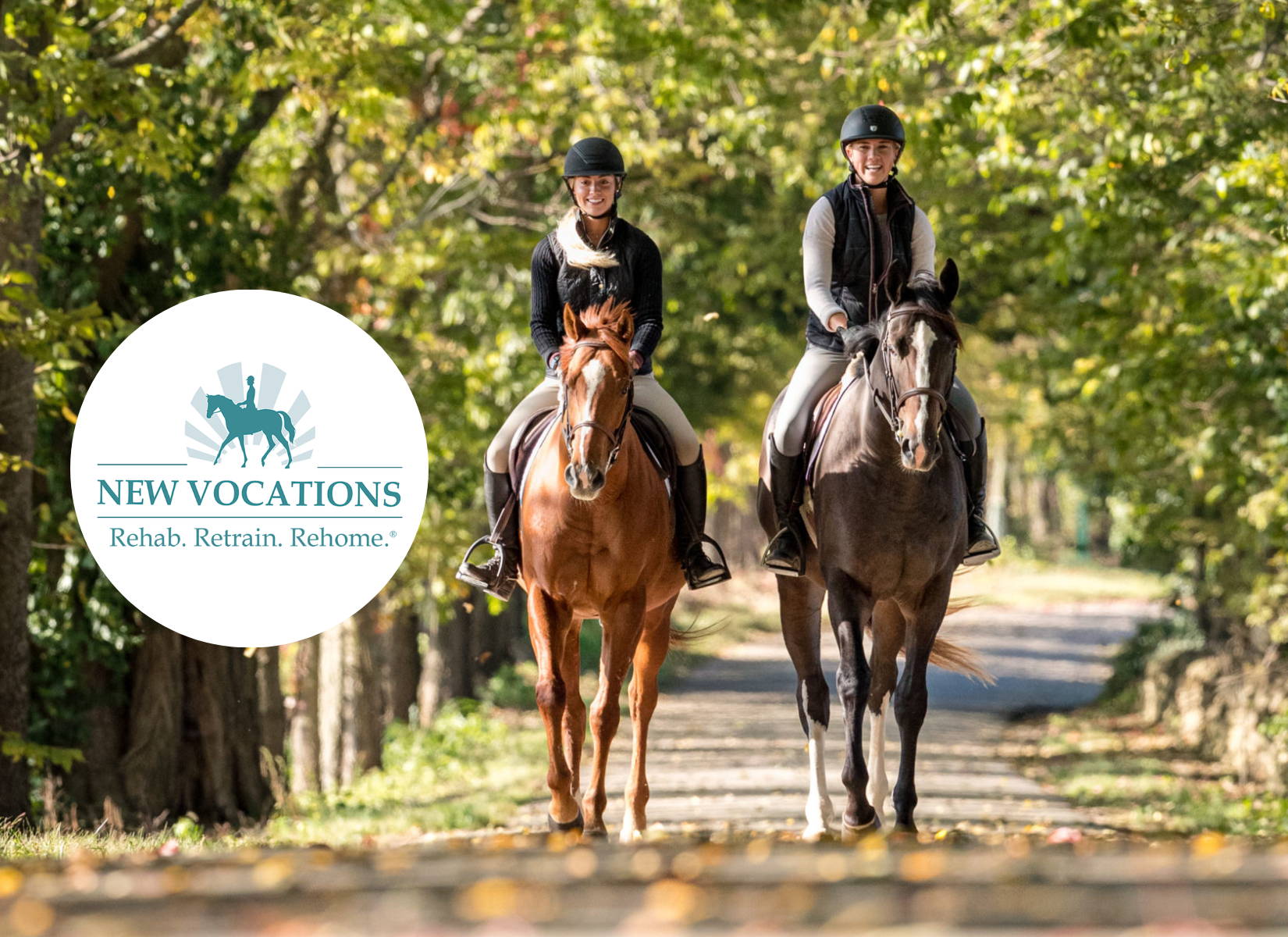 Use Coupon Code: NEWVOCATIONS
New Vocations is proud to be the oldest and largest racehorse adoption program in the country, serving more than 500 horses a year. Since our inception in 1992, we've carried out our mission to rehabilitate, retrain and rehome retired racehorses and placed more than 8,000 in adoptive homes. With eight facilities in Kentucky, Louisiana, New York, Ohio and Pennsylvania, we continue to work with racing owners and trainers in need of equine aftercare options and with our adopters to find perfect homes for these most-deserving equine athletes.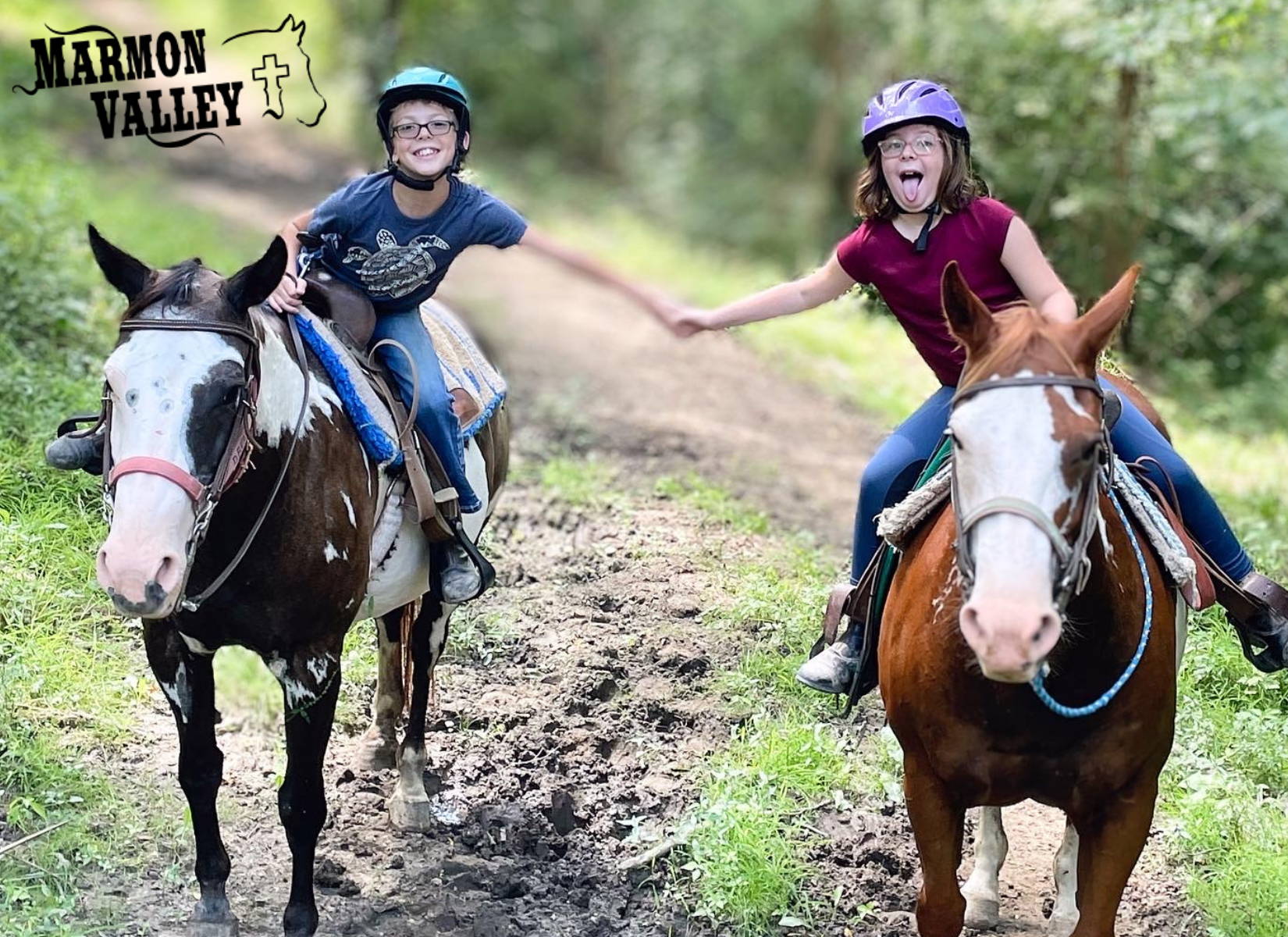 Faith
Marmon Valley Farm is a Christ-centered, family-owned farm. Our goal is to share Christ's love with all who come on the grounds. We believe that creation declares God's glory and the Farm atmosphere provides many opportunities to grow in our faith.
Farm
In an age where technology reigns, we offer a simple farm environment. Guests love to visit our cows, goats, chickens, miniature horses, and rabbits. With over 150 horses, we operate the largest Christian horse camp in Ohio.
Fun
With activities such as horseback riding, summer camp, archery, climbing wall, hay rides, and barn dances going on, the Farm is a lively and wholesome place to bring your family!
---
Use Coupon Code: SHANECENTER
Located at Willow Farm in Centerburg, Ohio, and situated on 40 tranquil acres in scenic Knox County, The Shane Center is a non-profit organization whose mission is to improve the quality of life for people with disabilities through innovative equestrian activities.
Founded in 1993 as Equine Assisted Therapy, Inc. by Karen and Joel Sanchez, The Shane Center is Central Ohio's original therapeutic riding program and has a reputation for providing safe, quality, family-oriented services that are second to none. We are a proud Premier Accredited Center of PATH, International (Professional Association of Therapeutic Horsemanship), who has been a global authority, resource, and advocate for equine assisted activities and therapies since 1969. Their mission is to promote safety and optimal outcomes in equine-assisted activities and therapies for individuals with special needs. Only those centers that adhere to the strict PATH guidelines can be accredited, and The Shane Center passed with a score of 100%.
Since its inception, no client has ever been denied services due to their financial circumstances. The Shane Center's vision is to provide sustainable, exceptional equine programs that remain responsive to community needs, which are collaborative with community partners, and progressive in standards and effectiveness.
Use Coupon Code: SECRETARIAT
The Secretariat Center's mission is to prepare off-track Thoroughbreds for happy, healthy, and successful post-track careers by rehabilitating and giving them a broad-based foundation of skills to ensure a harmonious match with their adopters. We advocate for the athleticism and versatility of the Thoroughbred and provide educational opportunities through horsemanship.
The Secretariat Center's vision ensures a second career for Thoroughbreds by combining a passion for horses, meaningful partnerships, and the belief that all equines deserve care, kindness and a purpose beyond the racetrack.
Working off the principle that It is the responsibility of the Thoroughbred industry to ensure the safety and welfare of registered thoroughbreds after their days at the track are done, the Secretariat Center proudly maintains our accreditation with the Thoroughbred Aftercare Alliance. By partnering in this industry-united initiative, the Secretariat Center and other accredited organizations are held to the highest standards of conduct in their care, retraining, and rehoming efforts.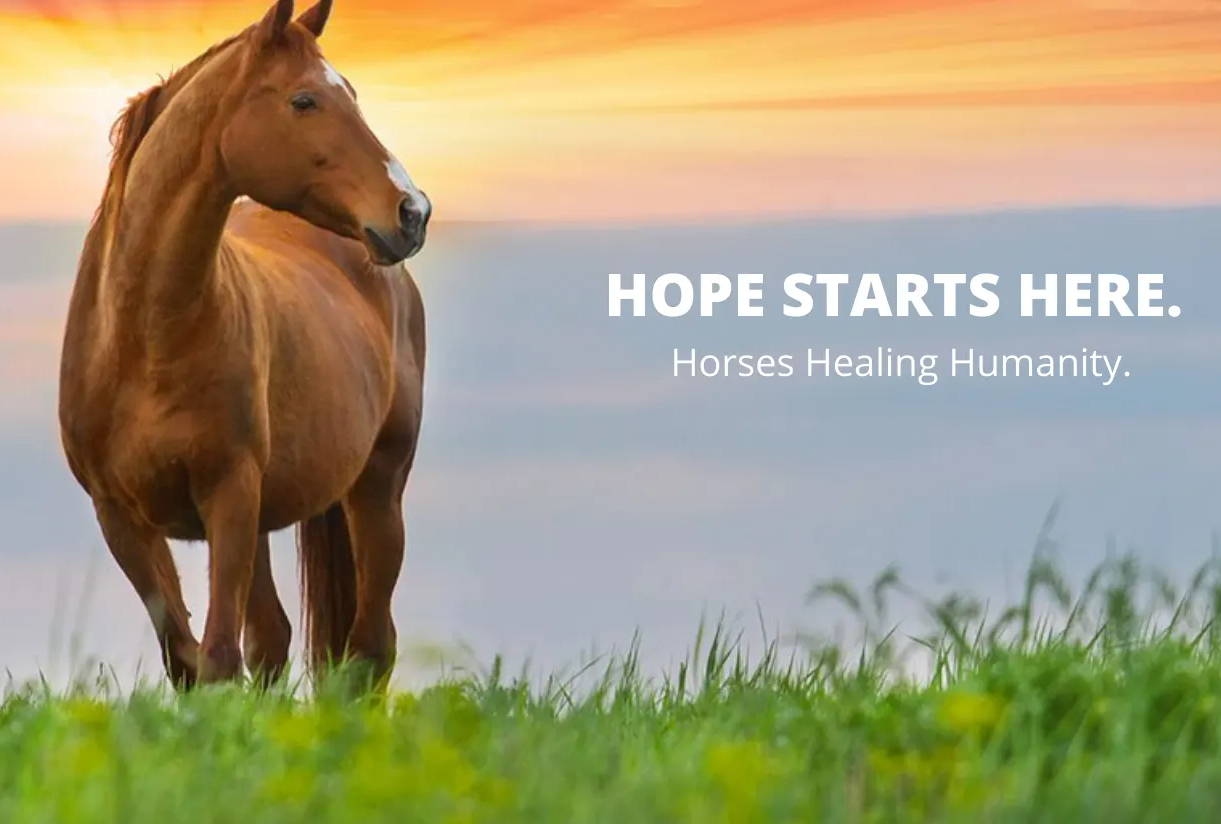 Use Coupon Code: HOPEMEADOWS
Hope Meadows Foundation is a non-profit organization that serves the community to provide equine therapy and advocate for better mental health. We believe in a holistic approach combining horses, life skills and the natural environment to aid in the healing process.
Hope Meadows is dedicated to transforming lives through equine assisted mental health services and life skills programs; body, mind and spirit.
Hope Meadows serves the community to provide Equine Assisted Psychotherapy (EAP) to children, adolescents, adults, groups, couples, and families.
In working as a specialized treatment team of a Mental Health Specialist, Equine Specialist and Horse(s), we can create a healing environment for youth, first responders and healthcare workers, and those struggling with PTSD, anxiety or depression.
---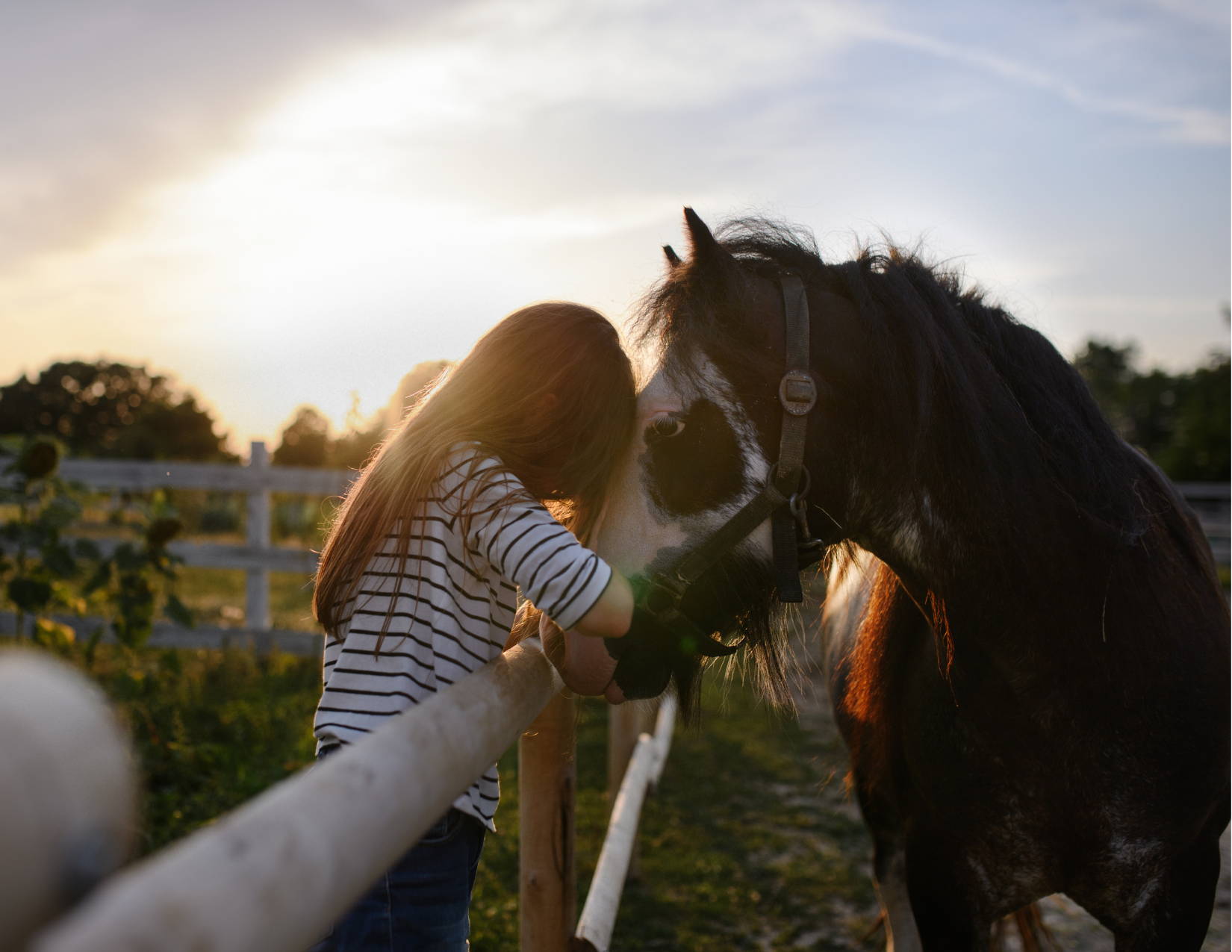 ---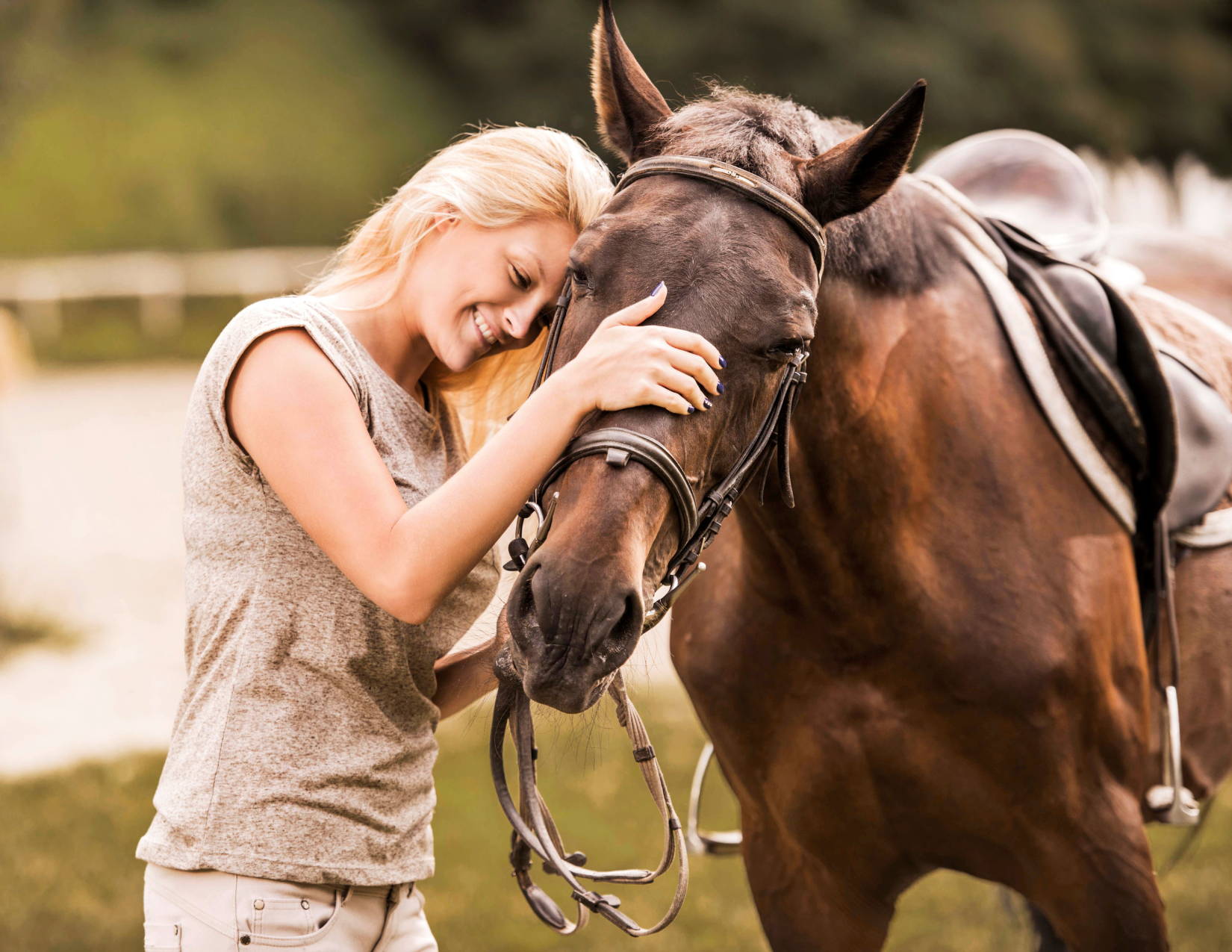 ---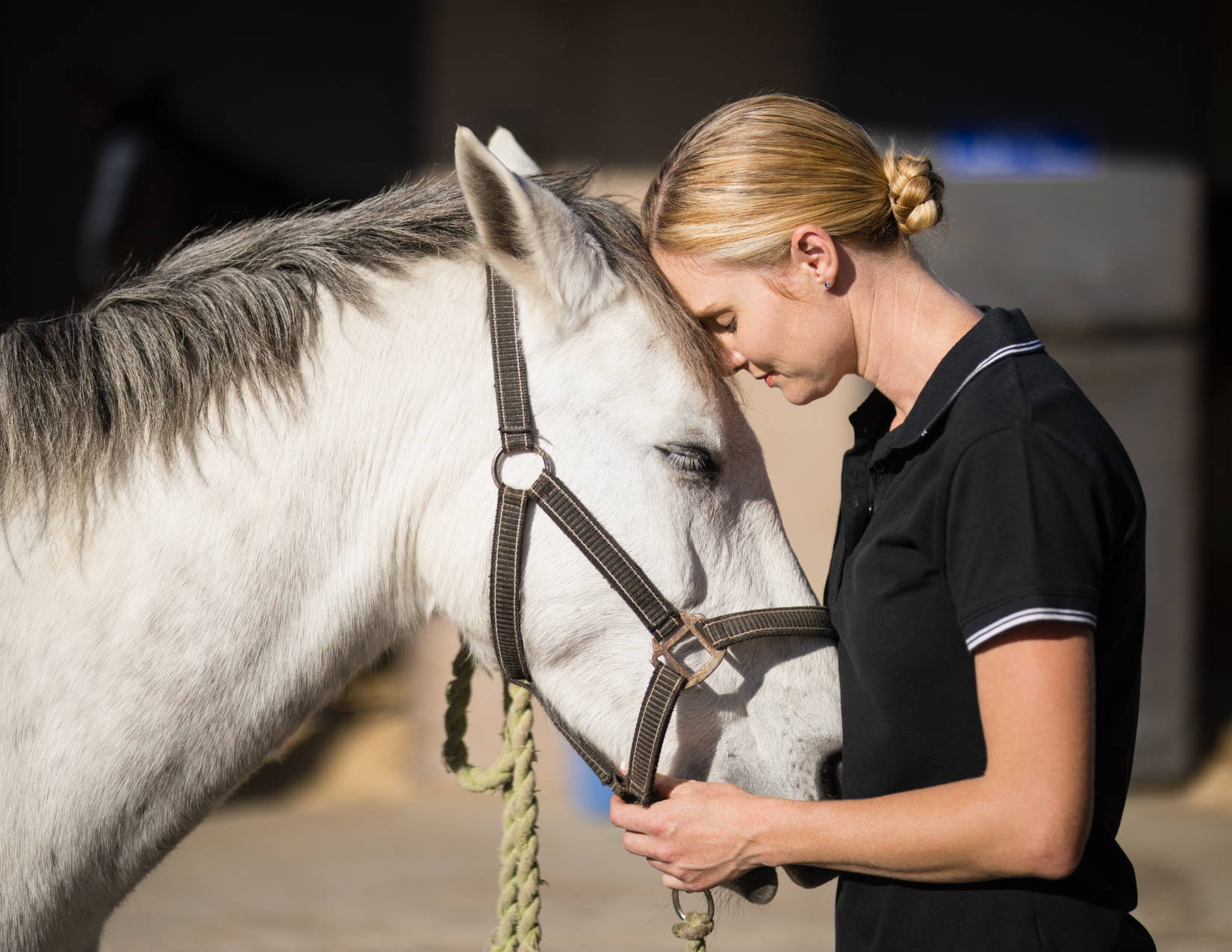 ---